Windows TNC Driver Version 2.00
---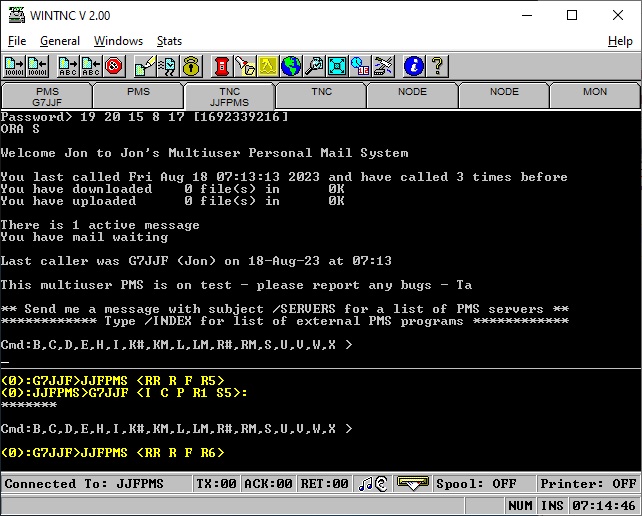 ---
WINTNC Ver 2.00 is a Windows multiuser/multitasking multiport Packet Terminal Driver program for use with multiple KISS mode TNC's attached to your IBM-PC/clone or software modems using the AGWPE interface, such as the SoundModem by UZ7HO. The software is 32 bit so works with modern 32/64 bit Windows 7/10/11 systems.
PLEASE NOTE : THIS VERSION NO LONGER SUPPORTS THE BAYCOM MODEM AS THE BAYCOM DRIVER I WROTE NO LONGER WORKS ON WINDOWS 7/10/11
The software includes many features not often found in other TNC driver programs including :
integrated Personal Mail System with FBB compatible compressed forwarding
inbuilt multiport node
YAPP file server accessible from node
conference server accessible from node
split screen or full screen display
1000 line scroll back buffer with search facilities
YAPP and ASCII file transfer facilities
connect directory
directory browser with comprehensive file viewer
file, notepad and clipboard editor
UUencode and UUdecode of files
7PLUS encoding and decoding of files
script file support for automatic MD2 & FBB 5 character password BBS entry
C_FILTER with MD2 & FBB 5 character password support
M_FILTER with automatic extraction and decoding of 7plus incoming messages
external PMS mail servers including REQDIR. REQFIL & REQMSG
external PMS program servers including ADVENT (the original Colossal Cave adventure)
simple to use yet sophisticated script language for automated operation
timed execution of script files
locator calculations
configurable sound events
FBB header broadcast support
plus many more !

The software is fully multiuser/multitasking which means that more than one person can be active in any part of the system at once whilst you are still using the software for your own purposes.

Download and install the program from the link below. I have tested this on both Windows 10 and 11 and it seems to work OK.

Also please download the latest 2.04 minor upgrade after installing the main program above.

The program is now FREE to use but if you find the program useful and wish to help support the program in the future, you can make a voluntary donation here. Thanks !

I no longer have any radio gear or TNC's to test it with so I would like to know if anyone manages to get it working. It should, but I can't check myself.

As this is the first release after conversion, I am sure there may be a few things that have missed my testing and don't work so please let me know if you spot anything that doesn't seem right.

To configure the AGWPE interface for use with the SoundModem by UZ7HO, please refer to my other page here.

I have created a user group on groups.io for help and support with WINTNC. Please subscribe below :

Known Issues

1. The help file is still in the old Windows .HLP format but if you install the 2.02 update or later, this will install the necessary Windows Help executables to the WINTNC directory for you automatically

2. Bitmaps aren't being displayed on diaglog boxes for some reason, eg the colour bar on the Alt-S -> Video Configuration dialog box is missing - now fixed in 2.04 update

3. Any printer output goes to the PRINTER.TXT file within the WINTNC directory and not directly to your attached printer

4. The program was written before Windows long file names came into being so the directory browser display may look odd when displaying long file names. This will be fixed in due course - now fixed in 2.04 update

Please let me know if you find any other issues.

Thanks !
---