BBC Games List is a game database front end for use with my Mac BeebEm emulator.

The program is based on, and compatible with, the Windows version BBC List by P.Jones to whom I am grateful for allowing me to write a Mac version of the program.

BBC Games List displays a list of games that can be sorted by name, year, publisher and genre. If available, the program will also show a screen shot of the game.

By double-clicking on a program, it will launch BeebEm with the disc loaded and automatically start the game. The autorun feature will only work on BeebEm version 3.0v and above.

There are also numerous filter options available to allow you to find the game you want.

Menu options are also available to add or edit information in the game database.

If you have any corrections or additions to the database, please email me with the information so hopefully, we can end up with a complete list of all published BBC games !

The program comes with a database of over 2000 games but you will have to find your own disc images. My ISP bandwidth bill would rocket if I made them available here !

I tend to use www.stairwaytohell.com so the program now has an option to automatically download disc and tapes images straight into the database. This is an instant way to build up a collection of over 3,000 disc and tape game images !

You can see a screen shot of the program running below (click on the picture for a bigger image).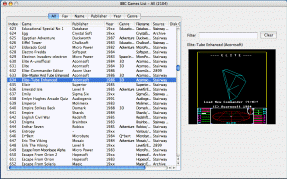 If the program crashes with strange errors etc, please let me know so I can fix the problems !
Also, if you are good at creating program icons and would like to design an icon for this program, please get in touch as I am really pants when it comes to anything artistic !
You can download the latest version of the program below :
The program is written using REALbasic 2006 R4 and so is a true universal binary application.
Revision History
Date
Version
Changes
18/11/06
1.0.2
Minor bug fix
Converted distribution file to .dmg image
08/10/06
1.0.1
Added option to download missing disc/tape images off STH website
Added option to merge existing games/tapes into database
Added edit context menu to text fields
Added more display filter options
Minor bug fixes
04/10/06
1.0.0
Initial Release
---
| | |
| --- | --- |
| Nov 2010 | 40 |
| Oct 2010 | 49 |
| Sep 2010 | 47 |
| Aug 2010 | 63 |
| Jul 2010 | 37 |
| Jun 2010 | 25 |
| May 2010 | 39 |
| Apr 2010 | 53 |
| Mar 2010 | 36 |
| Feb 2010 | 29 |
| Jan 2010 | 43 |
| Dec 2009 | 48 |
| Nov 2009 | 35 |
| Oct 2009 | 77 |
| Sep 2009 | 49 |
| Aug 2009 | 23 |
| Jul 2009 | 27 |
| Jun 2009 | 29 |
| May 2009 | 28 |
| Apr 2009 | 35 |
| Mar 2009 | 33 |
| Feb 2009 | 35 |
| Jan 2009 | 28 |
| Dec 2008 | 47 |
| Nov 2008 | 29 |
| Oct 2008 | 40 |
| Sep 2008 | 21 |
| Aug 2008 | 28 |
| Jul 2008 | 23 |
| Jun 2008 | 26 |
| May 2008 | 32 |
| Apr 2008 | 28 |
| Mar 2008 | 64 |
| Feb 2008 | 22 |
| Jan 2008 | 26 |
| Dec 2007 | 40 |
| Nov 2007 | 31 |
| Oct 2007 | 30 |
| Sep 2007 | 21 |
| Aug 2007 | 41 |
| Jul 2007 | 44 |
| Jun 2007 | 36 |
| May 2007 | 37 |
| Apr 2007 | 17 |
| Mar 2007 | 29 |
| Feb 2007 | 43 |
| Jan 2007 | 39 |
| Dec 2006 | 38 |
| Nov 2006 | 51 |
| Oct 2006 | 253 |
| Total | 2044 |