WINTNC Minor Upgrade 2.01
---
This update includes :
Telnet Client

ANSI Driver
To make a telnet connect, use the syntax :
C <ip addr>:<port>
eg
C 212.159.61.112:6300
or
C <host name>:<port>
eg
C g7jjf.ampr.org:2300
if the address is resolveable on your computer to the actual IP address.
Telnet is usually used to connect to a remote BBS over the internet and some BBS's use ANSI colour sequences when displaying text as shown below :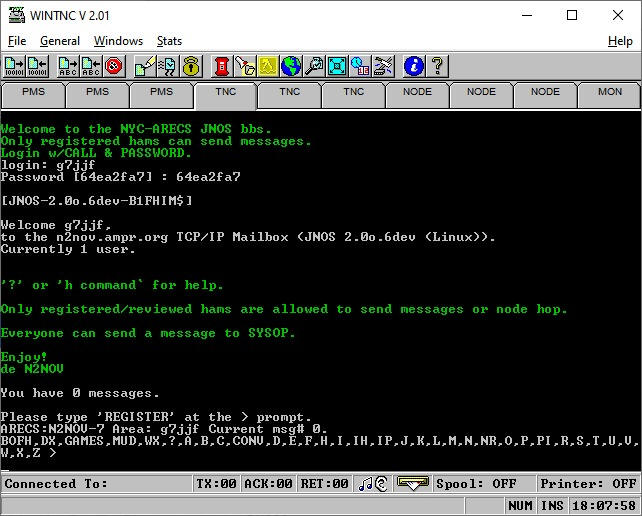 When you disconnect from a remote system, the telnet connection can take a few seconds to close down. You can always click the Disconnect button on the tool bar to help speed things up.
You can download the update file below :
The link only updates your main WINTNC.EXE program. You must of course already have the full Ver 2.00 installed on your system prior to installing the upgrade.
---
| | |
| --- | --- |
| Aug 2023 | 28 |
| Sep 2023 | 95 |
| Oct 2023 | 8 |
| Nov 2023 | 0 |
| Total | 131 |